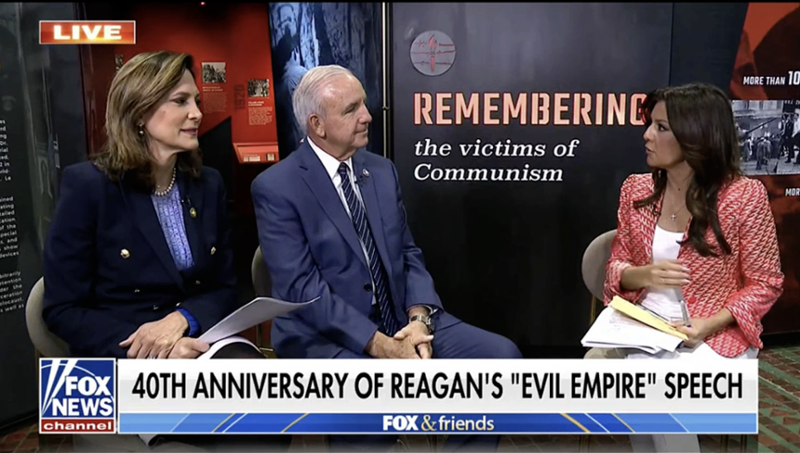 WASHINGTON, D.C. –  Congressman Carlos Gimenez (FL-28) spoke on the threats of communism, specifically Communist China, from the Victims of Communism Museum in Washington D.C. on the 40th anniversary of President Ronald Reagan's "Evil Empire" speech. Congressman Gimenez was forced from his native homeland of Cuba shortly after the Communist takeover. Today, he was joined by his colleague, Congresswoman Maria Elvira Salazar, as they were both interviewed by Fox and Friends Co-Host, Rachel Campos Duffy, in commemoration of President Reagan's speech.
"We need the spirit of Ronald Reagan today because we need to confront what I believe is an even greater challenge, which is the Communist Party of China," Congressman Gimenez said.
"Combatting free speech and trying to censor is a hallmark of communist regimes. I am completely against it – over 100 million people have died over the past century because of the evils of communism."
Congressman Carlos Gimenez (R-FL) is the only Cuban-born Member of the 118th Congress, having been forced from his homeland shortly after the Communist takeover of the island. Congressman Gimenez represents Miami-Dade County and the Florida Keys, boasting the nation's largest Cuban exile community. He has long been advocating for sanctions against the brutal Castro dictatorship and a champion for Human Rights activists in Cuba.
#  #  #


Originally published at https://gimenez.house.gov/2023/3/congressman-carlos-gimenez-speaks-on-the-threat-of-communism-on-the-40th-anniversary-of-reagan-s-evil-empire-speech