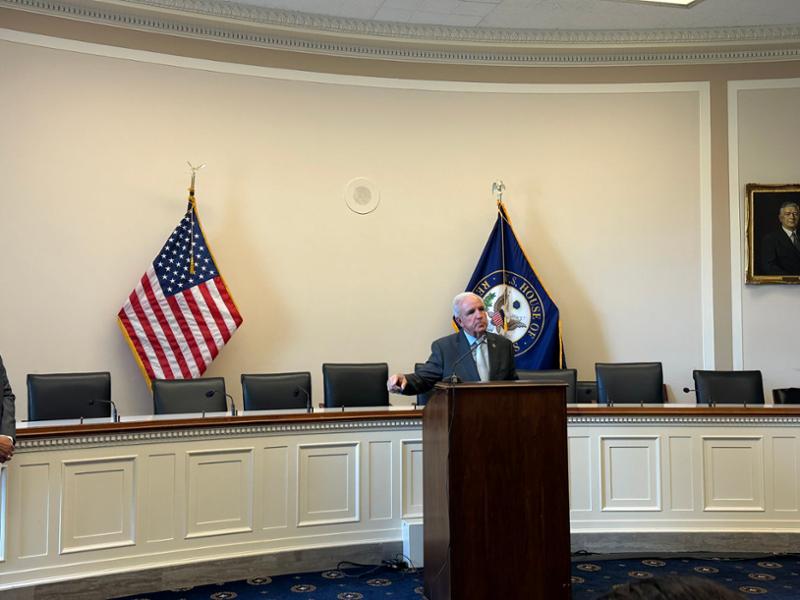 WASHINGTON, D.C. – On, the second anniversary of the July 11, 2021 pro-democracy protests in Cuba, Congressman Carlos A. Giménez spoke at the Foundation for Human Rights in Cuba press conference to demand the freedom of opposition leader Jose Daniel Ferrer and other Cuban political prisoners arrested by the brutal Castro dictatorship for asking for 'Patria y Vida'. Since the July 11 demonstrations began, Congressman Giménez has continuously called out the repressive, criminal Castro regime for its brutal oppression of the Cuban people and demands more action from the Biden Administration. 
"On the anniversary of the July 11 Movement, the people of Cuba rose up spontaneously, throughout the island, to demand one thing – Libertad. Freedom," said Rep. Gimenez. "The United States must be the champion of freedom in our hemisphere. We should not tolerate communism, or any type of dictatorship, in our hemisphere."
As the only Cuban-born Member of Congress, Congress Giménez knows firsthand the devastating effects of communism and the importance of fighting to preserve freedom and liberty. As a small child, he was forced to flee Cuba shortly after the takeover of the criminal, Communist Castro regime.
Congressman Carlos A. Giménez serves as Chairman of the Homeland Security Subcommittee on Transportation and Maritime Security, the Select Committee on China, and the Armed Services Committee. Rep. Giménez represents Miami-Dade County and the Florida Keys.
Watch Congressman Carlos A. Giménez remarks HERE. 
###
Originally published at https://gimenez.house.gov/2023/7/congressman-carlos-gimenez-demands-freedom-for-july-11-political-prisoners-on-second-anniversary-of-patria-y-vida-protests