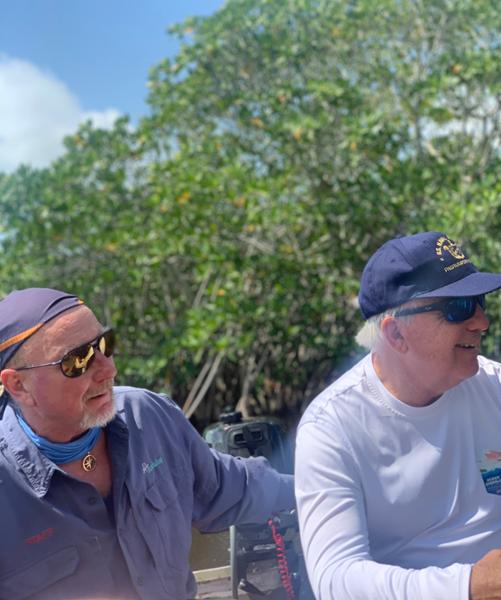 WASHINGTON, D.C. – Congressman Carlos A. Gimenez (FL-26) announced today that his congressional office secured over $23.7 million in funding for Florida's 26th Congressional District. Each community project funding request submitted by Gimenez's office was approved, leaving his office with a 100% track record in securing critical funding for South Florida.
"One of the most important functions in my role as a Member of Congress is ensuring that Florida's 26th Congressional District gets the funding it needs to support critical infrastructure projects and the work of our community's non-profit organizations. I want to thank my colleague Congressman Mario Diaz-Balart, who serves on the House Appropriations Committee, for his help in ensuring this important funding to South Florida was included in the bill," Gimenez said. 
Following Gimenez's earmark requests in April, this particular appropriations bill includes funding for the following:
·      Miami-Dade Police Department for Operation Safe Ride, Miami, FL: $2.01 million
·      Florida Keys Water Improvement, Key West, FL: $6 million
·      Key West Housing Authority, Key West, FL: $2.5 million
·      Agape Network, Miami, FL: $3 million
·      Coral Reef Observatory, Miami, FL: $1.14 million
·      Clean Water State Revolving Fund, Miami-Dade County, FL: $2 million
·      Twin Lakes Pre-Disaster Mitigation, Monroe County, FL: $5.4 million
·      Homestead Police Department Body Cameras, Homestead, FL: $750,000
·      Employ Miami-Dade, Miami, FL: $500,000
·      Miami SCI Wellness, Miami, FL: $440,000
On Operation Safe Ride: 
"Operation Safe Ride provides robust services by the Miami-Dade Police Department on public transit, ensuring that travelers in and throughout the Miami metropolitan area have ride our public transit systems safely. This money will help keep our communities and our families safer while encouraging the use of Miami's public transit," Gimenez said.
On Florida Keys Water Improvement: 
"This funding will help protect and improve the near shore waters of the National Marine Sanctuary, helping to ensure that the Florida Keys continues to be a robust economic powerhouse in South Florida," Gimenez said. 
On Key West Housing Authority: 
"With this funding, the Key West Housing Authority will have the ability to replace an aging transformer and generator, helping maintain necessary functions at the Senior Citizen Plaza in the event of a blackout. Due to the location of Key West in the Caribbean Sea, the island is subject to a volatile and uncertain weather pattern, especially during the Hurricane Season. This project will directly benefit nearly 200 low-income senior families," Gimenez said. 
On the Agape Network: 
"For many residents, the Agape Network is a crucial component of Miami's health care industry. This funding would help the organization construct the Agape Village Health Center, a project that will double the number of weekly outpatient services it can provide and create space for 121 new employees," Gimenez said. 
 
On Coral Reef Observatory: 
"This money will be greatly beneficial for the Aquarius Coral Reef Observatory at Florida International University. Coral reefs are an incredibly important part of South Florida's ecosystem and more needs to be done to not only preserve them for our future generations, but also learn more about their important functions to our ecosystem," Gimenez said. 
On the Clean Water State Revolving Fund: 
"This community project will be crucial in the cleanup of private wells occurred at no fault of the residents. Miami-Dade County residents deserve access to clean drinking water that meets all the health standards, preserves their property value, and maintains the viability of their neighborhoods," Gimenez said. 
On the Twin Lakes Subdivision: 
"Residents are often the ones who carry the largest burden during natural disasters. This important funding will help the Twin Lakes Subdivision ensure the long-term viability of the neighborhood by bolstering the subdivision's ability to clear rods, put flood mitigation protocols in place, power can be quickly restored, and ensure residents are kept safe during episodes of flooding," Gimenez said. 
On Homestead Police Department: 
"Body cameras are an incredibly important component of public safety, both for the men and women in uniform and for citizens engaging with the police. These body cameras will help provide transparency, and if needed, accountability, to ensure best practices are being met by our brave law enforcement officials," Gimenez said. 
On Employ Miami-Dade: 
"This funding will help expand employment opportunities and vocational trainings for some of the most underserved communities throughout Miami-Dade County. During my time as Mayor of Miami-Dade County, I was dedicated to the upward mobility of our families. In Congress, I am honored to keep fighting to make sure economic opportunities and roads to prosperity are made open and available for all of our working families," Gimenez said. 
On Miami SCI Wellness: 
"This funding will help Miami SCI Wellness expand and improve its physical therapy and wellness programs serving the paralysis community in Miami-Dade, through acquisition of capital equipment for rehabilitative treatment of spinal cord injury, traumatic brain injury, stroke, and neurological conditions. As a Member of Congress representing South Florida, I have the responsibility to fight for our most vulnerable communities. I'm pleased to see this important funding going to this great cause," Gimenez said. 
The appropriations package supported by Gimenez included several funding items for national security, border security, better pay for our servicemembers in uniform, and more resources for law enforcement officials. Funding includes: 
·  $350 million for Corps of Engineers Construction South Florida Ecosystem Restoration program.
·    6% increase in defense spending, including an increase in funding for Israel's Iron Dome.
·    $14 billion in humanitarian assistant to Ukraine as they grapple with Russia's barbaric invasion.
·    More funding to carry about contracts for construction of barriers along the southern border and an increase in funding for Customs and Border Protection (CBP) agents and resources.
·    A 15% increase in funding for Department of Justice grants.

Originally published at https://gimenez.house.gov/2022/3/gimenez-secures-23-7-million-for-south-florida