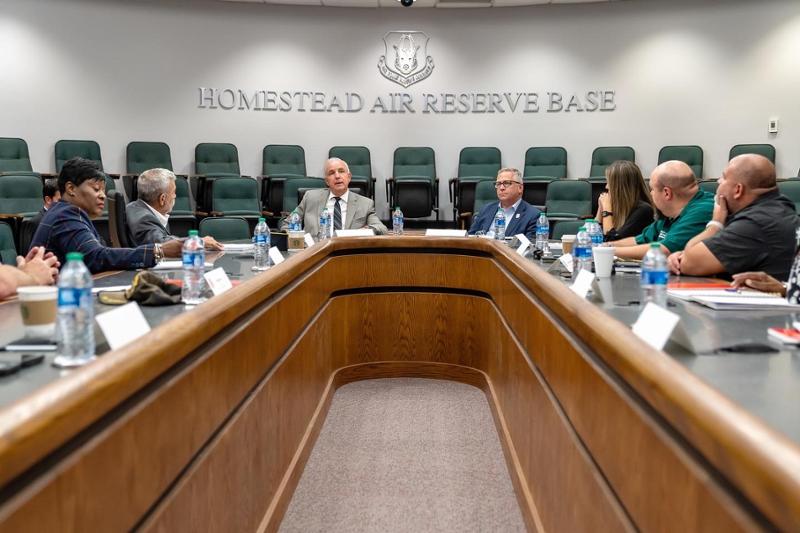 WASHINGTON, D.C. – Congressman Carlos A. Giménez (FL-26) scored a major win for Homestead Air Reserve Base in the National Defense Authorization Act (NDAA). The NDAA, which passed today, will include a provision that would prohibit the Secretary of the Air Force from entering into an agreement that would "provide for or permit the joint use of Homestead Air Reserve Base by the Air Force and civil aircraft." 
"Preserving the Homestead Air Reserve Base (HARB) for its original intent and purpose is critical to protecting our national security interests," Giménez said. "I am encouraged that our efforts to preserve HARB were included in this year's National Defense Authorization Act (NDAA) and will ensure the base's functionality and main objective as stated by law, remain as such. Allowing aircrafts not affiliated with our military or armed services to utilize an air reserve facility would only compromise our country's national security. Prohibiting the joint use of the Homestead Air Reserve Base ensures the protection of our strategic interests and protects the precious South Florida ecosystem caught in between Biscayne National Park and Everglades National Park. I thank Senators Marco Rubio and Rick Scott for their leadership on this issue and look forward to continuing working together to deliver results for our community." 
Rep. Giménez introduced The Protecting Critical Ecosystems and Military Readiness in Florida Act, earlier this year to prohibit civil aviation operations at Homestead Air Reserve Base (HARB) in Homestead, Florida. U.S. Senators Marco Rubio (R-FL) and Rick Scott (R-FL) introduced companion legislation in the Senate. 
For years, Homestead Air Reserve Base (HARB) has been a central focus of special interests that wish to secure commercial passenger and cargo operations to expand the urban development boundary in southern Miami-Dade County. Those proposals have the potential to impact military readiness and diminish efforts to conserve and restore critical habitat near HARB and Biscayne Bay. 
The inclusion of this provision as part of the NDAA guarantees the protection of our South Dade ecosystem and ensures that Homestead Air Reserve Base (HARB) will continue to operate for its original intended purpose.
###
Originally published at https://gimenez.house.gov/press-releases?ID=CB1CD43C-C470-4D6E-855D-0559F6AFFA88