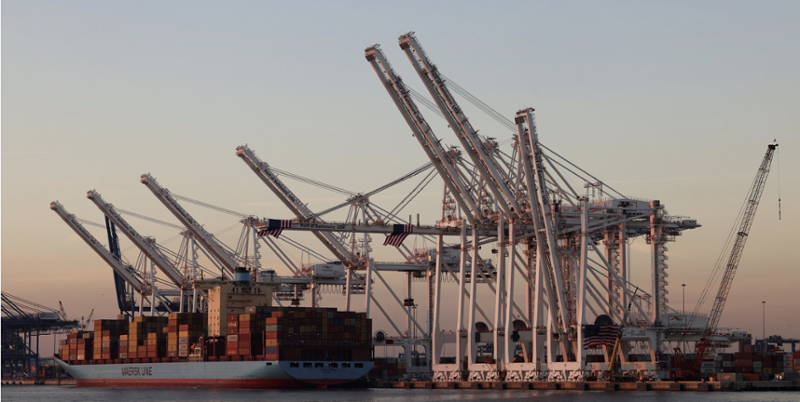 WASHINGTON, D.C. – Today, the Wall Street Journal published an article on Chinese-made cranes operating at American ports across the country, including at several used by the military, could give Beijing a possible spying tool hiding in plain sight. The Wall Street Journal exclusive, emphasized Congressman Gimenez's leadership on the cargo crane issue. Congressman Gimenez is the former Mayor of Miami-Dade County and currently a member on the Select Committee on China.
Amongst the growing threat of China, Congressman Carlos Gimenez (FL-28) introduced legislation last year to begin the process of decoupling from these Communist China manufactured cranes which are being used in U.S. ports around the nation and to incentivize production of this technology domestically and in allied countries across the globe. 
Last Congress, Congressman Gimenez introduced H.R. 6488 – Port Cranes for America Act and H.R.6487 – Port Crane Security and Inspection Act of 2022
H.R. 6488 amends title 46, United States Code, to establish a grant program for the procurement of megacranes for use at United States ports. H.R.6487 requires the inspection of certain foreign cranes before use at a United States port.
Congressman Gimenez looks forward to continuing leading on this issue in the 118th Congress and spearheading efforts to further decouple and incentivize the re-shoring and near-shoring of manufacturing from Communist China.
Congressman Gimenez, who is a member of the Select Committee on China, has warned against Communist China's desire to become the main global power by 2049. In an interview with Fox & Friends this morning, Congressman Gimenez emphasized by buying products made in China "we are funding the instrument of our demise… we must decouple from China." 
Congressman Gimenez serves on the House Armed Services Committee, Homeland Security Committee, and the Select Committee on China. Rep. Gimenez is currently the only Cuban-born Member of the 118th Congress and previously served as Mayor of Miami-Dade County. He represents Florida's 28th Congressional District based in Miami-Dade County and the Florida Keys. 
#  #  #
Originally published at https://gimenez.house.gov/press-releases?ID=9725E924-25E8-4084-B43C-484DC5C48CB0