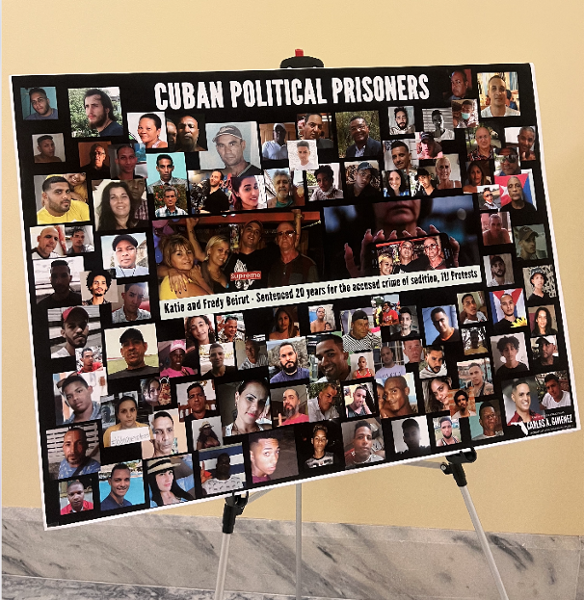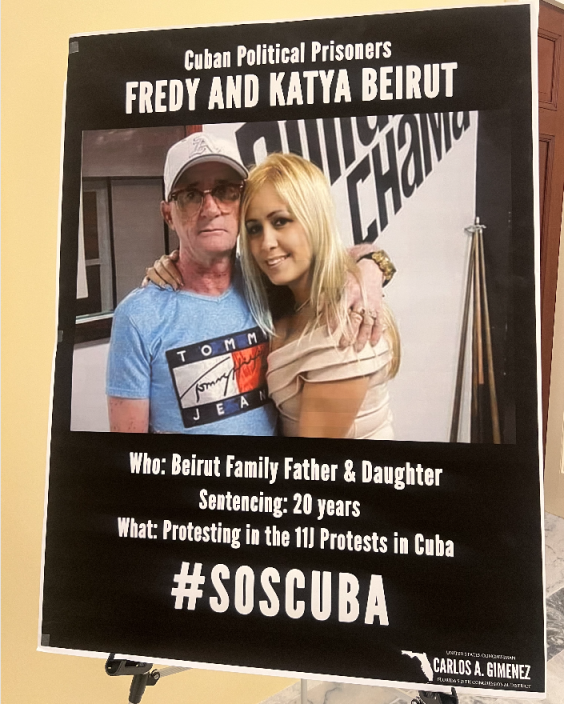 WASHINGTON, D.C. –  Congressman Carlos Gimenez (FL-28) launched a display demanding for the immediate release of Cuba's political prisoners in the U.S. Capitol by displaying over 100 Cuban political prisoners and highlighting the cause of an imprisoned father and daughter, Fredy and Katya Beirut. The Beirut family was wrongfully sentenced for the alleged crime of sedition in the Castro regime's kangaroo courts. Fredy and Katya Beirut are rotting in Castro's gulags for simply exercising their fundamental Human Rights during the July 11, 2021 protests in Cuba, where they demanded freedom and better living conditions on the island.
"Join me in demanding for the release of Katya and Fredy Beirut and the immediate release of all political prisoners in Communist China," Congressman Gimenez said. 
There are currently thousands of political prisoners in Communist Cuba, many of whom have been arrested following the July 11, 2021 protests inspired by the "Patria Y Vida" Movement. This number is in addition to the hundreds of political prisoners who have been unjustly jailed for decades in Castro's Cuba for expressing their discontent with the totalitarian dictatorship that oppresses the Cuban nation.
Congressman Carlos Gimenez (R-FL) is the only Cuban-born Member of the 118th Congress, having been forced from his homeland shortly after the Communist takeover of the island. Congressman Gimenez represents Miami-Dade County and the Florida Keys, boasting the nation's largest Cuban exile community. He has long been advocate for sanctions against the brutal Castro dictatorship and a champion for Human Rights activists in Cuba.
#  #  #


Originally published at https://gimenez.house.gov/2023/3/congressman-gimenez-launches-display-demanding-the-immediate-release-of-cuba-s-political-prisoners