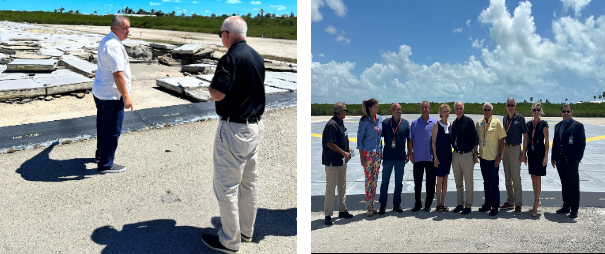 WASHINGTON, D.C. – Congressman Carlos A. Giménez and his wife Lourdes joined Monroe County Mayor Craig Cates, Mayor Pro Tem Holly Merrill Raschein, Commissioners David Rice, Michelle Lincoln and Jim Scholl, County Administrator Roman Gastessi, Assistant County Attorney Pedro Mercado, and Airport Director Richard Strickland at Key West International Airport to see the repaired Engineered Materials Arresting System (EMAS) he secured federal funding for last year. 
After EMAS became damaged by Hurricane Ian last year, Congressman Carlos Giménez successfully lobbied the Biden Administration to provide federal emergency Individual Assistance (IA) to repair the EMAS in Key West International Airport. EMAS are placed at the end of the runway to slow down and stop an aircraft that overruns the runway. The tires of the aircraft sink into the lightweight material of the EMAS and the aircraft is decelerated as it rolls through the material. 
A standard EMAS installation can stop an aircraft from overrunning the runway at 70 knots (approximately 80 miles per hour). This greatly enhances passenger safety in the case of an unexpected emergency. The repairs were completed in May 2023.
"Thanks to the Congressman's efforts, we were able to get the EMAS fixed and continue operations as  usual," said Richard Strickland, Executive Director of Airports. 
"Congressman Giménez continues to show up for Monroe County residents," said Mayor Craig Cates. "His quick actions at the federal level helped our locals affected by Ian get much-needed financial help, and the hurricane damage repairs at the airport moved along faster."
Congressman Carlos A. Giménez serves on the Homeland Security Committee, the Select Committee on China, and the Armed Services Committee. He is the only Cuban-born Member of the 118th Congress, having been forced from his homeland shortly after the Communist takeover of the island. Rep. Giménez represents Miami-Dade County and the Florida Keys.
###
Originally published at https://gimenez.house.gov/2023/8/congressman-carlos-gimenez