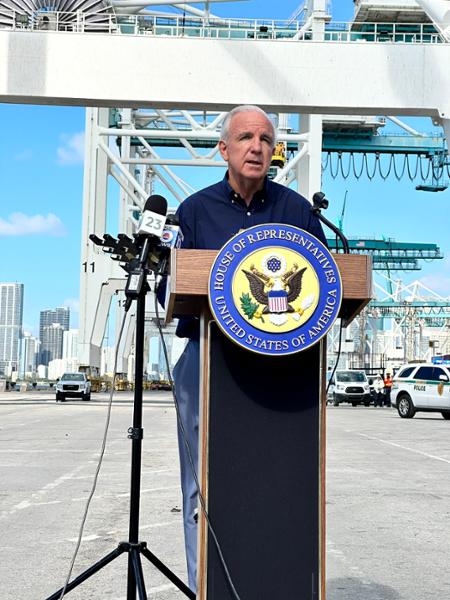 WASHINGTON, D.C. –  Today, Congressman Carlos A. Giménez (FL-28) and Rep. John Garamendi (CA-8) introduced the bipartisan Port Crane Security and Inspection Act of 2023 to combat the undue influence of the Chinese Communist Party (CCP) on port infrastructure, including cargo cranes, a critical component of U.S. supply chains.
The Port Crane Security and Inspection Act of 2023 limits the use of foreign cranes made by U.S. adversaries, like Communist China, requires the Cybersecurity and Infrastructure Security Agency (CISA) to inspect foreign cranes for potential security vulnerabilities before they are placed in operation and calls for CISA to report to Congress about critical and high-risk security vulnerabilities posed by foreign cranes in U.S. ports.
"The Communist regime in Beijing is America's most significant national security threat. The Communist Party of China is not a competitor, but rather an adversary that actively undermines the United States and our geostrategic interests," said Rep. Carlos A. Giménez. "For years, I have been warning about the need to decouple from Communist China and diversify our manufacturing capabilities. The Port Crane Security & Inspection Act of 2023 guarantees that America's ports are protected from cybersecurity attacks and potential security breaches by malign actors. Our seaports process over $1.5 trillion in trade every year and I'm proud to introduce this bipartisan legislation to protect both our economy and our public safety."
"Safeguarding our nation's seaports from foreign cyberattacks and industrial espionage is not a partisan issue. The best way to ensure secure critical infrastructure at our major cargo ports is to make these cranes in America in the first place, and that's what Congressman Gimenez's and my bill accomplishes," said Rep. John Garamendi.
"Cranes can be the new Huawei," a former counterintelligence office said referring to the Chinese telecom giant Huawei Technologies Co., whose equipment U.S. officials have effectively banned after warning that it could be used to spy on Americans. "It's the perfect combination of legitimate business that can also masquerade as clandestine intelligence collection." Huawei has said its products aren't a national-security risk.
Around 80% of the port cranes in operation in the U.S. are made in Communist China. This reliance on foreign cranes allows the CCP to illicitly capture information about materials being shipped in and out of the country and could lead to severe disruptions in critical infrastructure centers.
Congressman Giménez has been a leader on this issue since his time as Mayor of Miami-Dade County. A recent Wall Street Journal investigative report revealed jaw-dropping facts on how foreign manufactured cranes could be used to compromise America's critical infrastructure.
Congressman Carlos Giménez (R-FL), serves as Chairman of the Homeland Security Subcommittee on Maritime Security. He is the only Cuban-born Member of the 118th Congress, having been forced from his homeland shortly after the Communist takeover of the island. Rep. Giménez represents Miami-Dade County and the Florida Keys. Rep. Giménez serves on the House Armed Services Committee, Homeland Security Committee, and the Select Committee on China.  
Originally published at https://gimenez.house.gov/2023/5/congressman-carll