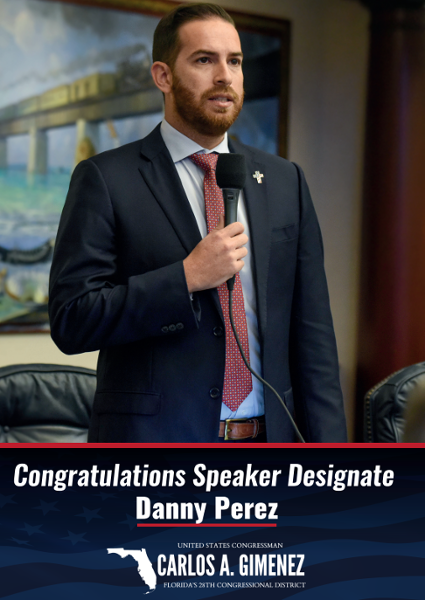 WASHINGTON, D.C. – Today, Congressman Carlos Giménez (FL-28) honored State Representative Daniel Pérez on the Floor of the United States Congress for being selected as the next Speaker of the Florida House of Representatives.
Congressman Giménez is the first graduate of Christopher Columbus High School to serve in Congress and is proud to recognize fellow Explorer, Speaker-Designate Danny Perez for this new milestone. 
Below is a transcript of Congressman Giménez speech:
Mr. Speaker, 
I rise today to honor and congratulate State Representative Danny Perez on being formally selected as the next Speaker of the Florida House of Representatives. 
Most importantly to me and to all my fellow Explorers, Danny Perez will be the first Christopher Columbus High School graduate to serve as Speaker of the Florida House of Representatives. 
Senator Marco Rubio paved the way as the very first Cuban-American Speaker of the Florida House and now Speaker Designate Perez will be just the third Cuban-American to ever serve in that role. 
Speaker-Designate Perez is happily married to his wife Stephanie, and has two beautiful children, Camila Lucia and Matias Daniel. He is an attorney by trade and a passionate advocate for children, who also serves as National Chair of the American Legislative Exchange Council. 
I look forward to continuing working with Speaker-Designate Perez. I am confident that he will continue being a champion for Miami-Dade County, for the State of Florida, and a responsible steward of our taxpayer dollars. 
Adelante Danny, adelante. We are all so proud of you!

To watch Rep. Giménez's speech, click HERE. 
To read Rep. Giménez's tweet, click HERE. 
Congressman Carlos A. Giménez represents Miami-Dade County and the Florida Keys in the U.S. House of Representatives. Rep. Giménez serves on Armed Services, Homeland Security, and the new Select Committee on China. He previously served as Mayor of Miami-Dade County and is currently the only Cuban-born Member of the 118th United States Congress.
### 


Originally published at https://gimenez.house.gov/2023/9/congressman-carlos-gimenez-congratulates-speaker-designate-danny-perez