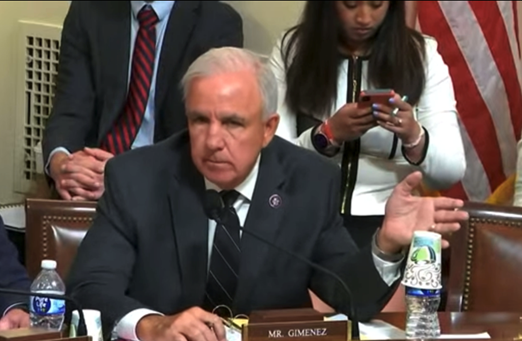 WASHINGTON, D.C. – Today, Congressman Carlos A. Giménez participated in a Homeland Security Committee hearing to examine Department of Homeland Security (DHS) Secretary Alejandro Mayorkas dereliction of duty and his abject failure to protect the security of the United States. Secretary Mayorkas' failures have swung our southern border wide open, allowed an unprecedented surge of unlawful migrants into the country, and flooded American communities with deadly fentanyl. In two years, the Biden Administration has undone any semblance of order and the rule of law and replaced it with failed, open-border policies that have created utter chaos. The ongoing humanitarian and national security crisis is the direct result of a DHS Secretary that has not taken seriously the responsibility to secure operational control of our border. 
See below for a transcript of Congressman Carlos A. Giménez line of questioning
"I believe like my colleagues that Mr. Mayorkas is not incompetent, I think he is derelict in his duties because everything that he has done is done on purpose. Do you share that view?" 
"In the first days of the Biden Administration, policies that were put in place by the Trump Administration to secure the border were overturned and then things started to go south in a really big way. Do you know first hand if Border Patrol agents advise Mr. Mayorkas that he needs to reverse his policies to stop the tidal wave that is coming into the United States?"
"Mr. Wolf, when you had the Remain in Mexico Policy, what percentage of those seeking asylum were granted asylum?"
"The law says if you are seeking asylum you are supposed to be detained until your hearing. That is not happening now is it?"
"Now people are being granted entry into the United States, so you are actually increasing the number of migrants entering the United States illegally by about 80%. Would you agree with that number?"
"The Administration does not know where 85,000 children actually are. Did that ever happen during the Trump Administration?"
Watch Congressman Carlos A. Giménez line of questioning HERE. 
WITNESSES
Chad Wolf
Former Acting Secretary of the Department of Homeland Security 
Rodney Scott
Former Border Patrol Chief 
Joe Edlow
Former Acting Director of U.S. Citizenship and Immigration Services (USCIS)
Witness testimony can be found HERE. 
Congressman Carlos Giménez  is the only Cuban-born Member of the 118th Congress, having fled the island shortly after the Communist takeover. Rep. Giménez  serves on the new Select Committee on China, Armed Services, and the Homeland Security Committee. He represents Florida's 28th Congressional District which includes Miami-Dade and the Florida Keys.
Originally published at https://gimenez.house.gov/2023/6/congressman-carlos-gimenez-blasts-dhs-secretary-mayorkas-for-dereliction-of-duty