As told to Cathryn Drake
Modern Patrons: Gina Mamidaki
How the hotelier built a Cretan retreat for artists from Anish Kapoor to Lynda Benglis
Through her unstinting support for artists over the years, the hotelier and art patron Gina Mamidaki has created an extraordinary oasis of contemporary art in Agios Nikolaos, Crete.
Mamidaki has cultivated artistic production through a sculpture garden with more than 70 site-specific artworks, a program of symposiums and residencies, and an annual art prize. She also supports the community by using local products and promoting traditional artisans through cultural platforms and educational programs. Next in the works is a museum of contemporary art, scheduled to open in 2026.
On the occasion of this year's G. & A. Mamidakis Foundation Art Prize, Art Basel caught up with Mamidaki and the art historian and curator Sotirios Bahtsetzis, who oversees art acquisitions and development for the foundation.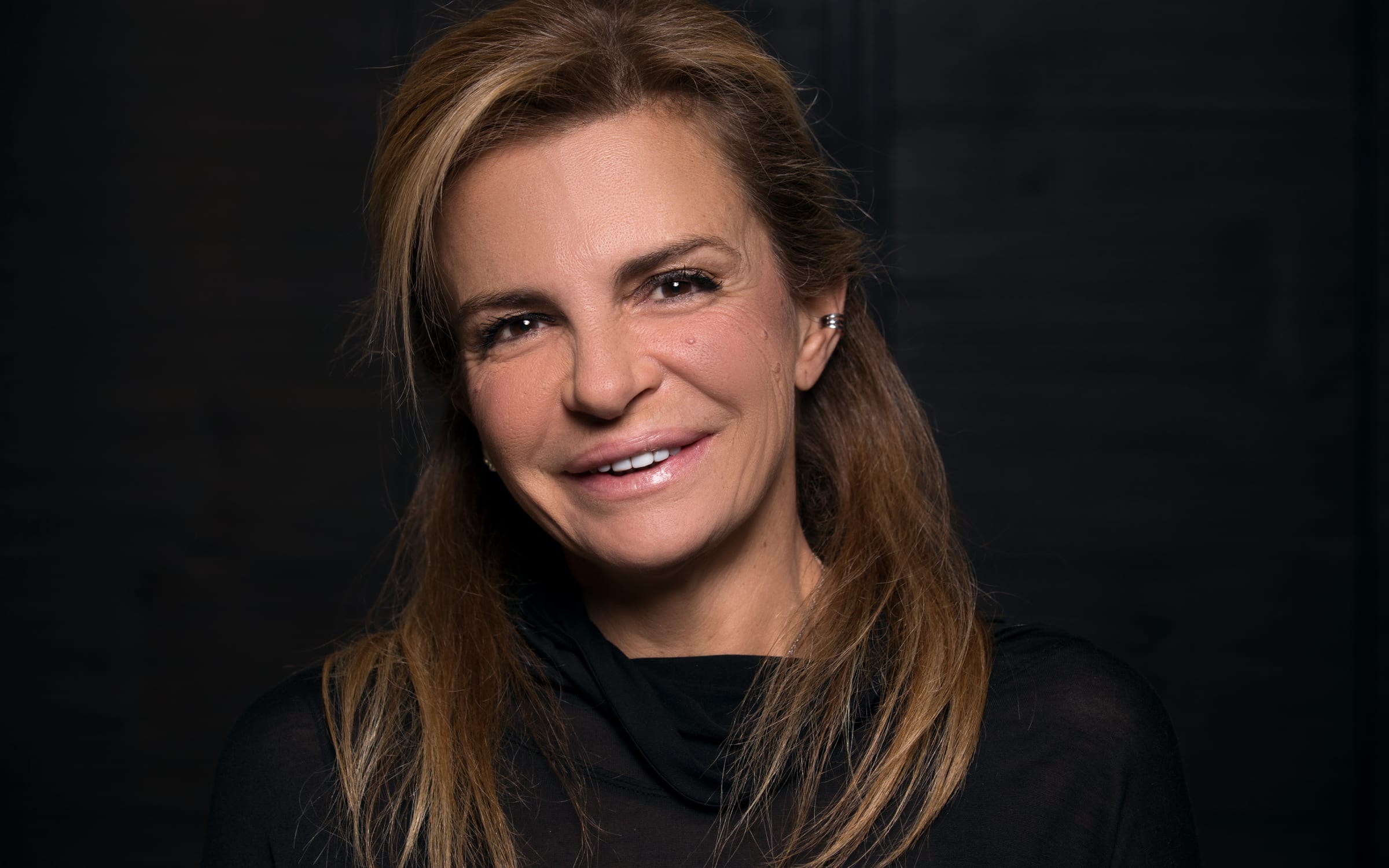 Gina Mamidaki: Art and beauty go hand in hand. When we started the G. & A. Mamidakis Foundation, I was trying to find something to make Minos Beach Hotel different and give it a competitive edge. I believe that art and hospitality are very close to each other, so this is the reason why we started the exhibitions and inviting artists to come and build in-situ art pieces. I believe that clients should be surrounded by art all of the time. All hotels should accommodate art, and not as a dead thing but as something alive. Having a few paintings means nothing.
I believe very much in art, and I love artists. I was a Communist when I was younger, which means I love to help people, from my employees to the local community. I give a certain amount of my profits to these sectors, including the residency program on our premises. This is why I see things more holistically than other hoteliers. And this is how I see art as well. Artists have to speak; people have to see their work. We don't have so many opportunities for artists here in Greece.
Sotirios Bahtsetzis: Since the early 1990s, Gina Mamidaki has invited artists to participate in the creation of the Sculpture Garden at Minos Beach Hotel. She hosted residencies before the trend of residencies existed. Some of the artists are very well known today, like Anish Kapoor and Joseph Kosuth, along with other emerging artists. What's important is the instructions they were given when they were invited to make an artwork: here is this landscape, here is the location, choose simple materials, choose what you find around you, and create an interesting piece. So it was not about overproduction. That's why there are some beautiful works like Drawing (1988) by Lynda Benglis, which is one of my favorites because it's a very simple gesture that seems to grow out of the landscape. On the other hand, The Painful Pyramids are impressive barbed-wire structures that were created by Magdalena Abakanowicz during the 3rd Art Symposium, 'Art in Politics', in 1993.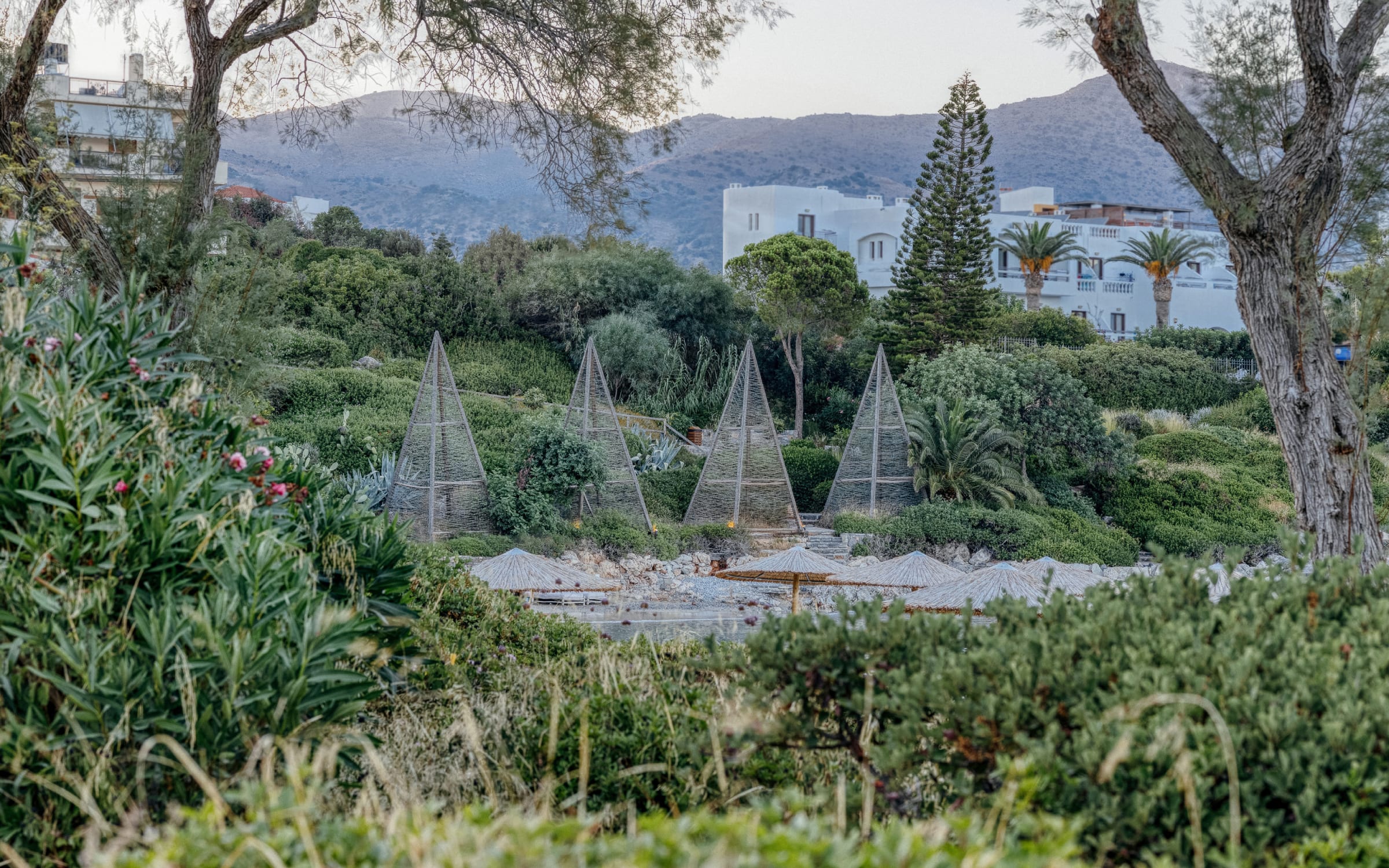 GM: Minos Beach is placed down in the earth, so as you go through the gardens you have a series of apokalipseis (revelations) through the artworks. A good example of this is Come with the Wind, by Theodoros Zafeiropoulos and Yorgos Rimenidis, winners of our inaugural art prize in 2019. Their work takes viewers on a journey to eight different parts of the world through sound recordings that are activated by both the wind and human presence. Another striking work is the sculptural installation Lost Ears of Agios Nikolaos and its accompanying sound installation, Hanging Gardens, by Kostas Ioannidis: While swimming near the hotel, you may stumble upon eight large cement ears placed in the seabed, after which you will encounter sounds of nature, like wind and birdsong, in an immersive experience stirring an appreciation of the surrounding natural beauty.
Our family hotel, Candia Park, is like a traditional Cretan village and all about what we celebrate together: happiness. We are building a 1,000 m² museum, which will open in 3 years. It will function as the contemporary art museum of Eastern Crete, and we will program a lot of happenings – art, dance, theater – everything is going to be there. The architects, Alexandros Kapsimalis and Marianna Kapsimali, are based in Santorini, where they do lots of work with cave dwellings. They seek to preserve the environment with buildings that are in harmony with the landscape, and part of the structure will be under the earth, with only a hole of light. It will be very mystical.
SB: Jumping forward to now with the residency program we started in October 2022, we have had 2 years of discussions and workshops, collaborating with artists and other institutions to focus on the theme of care, a recurring art world topic. For the Mamidakis Foundation as well as the hotels, this notion of care in its essential holistic understanding – care for others, for the community, for the landscape, and the environment, all in a communal way – is a leading philosophy. There has been a lot of discussion in the last 20 years or so about socially engaged art. And there's an understanding that big collecting has to do with blue-chip art, and socially-engaged art doesn't have to do with collectors. And I think it's wrong. Here we have a very clear case that those things can go together, and they should go together actually.
To that end, we have an open call every year for the G. & A. Mamidakis Foundation Art Prize. This is the first time we've had an international open call, and we got more than 700 applications. There are specific criteria: first of all the quality of the work, secondly an understanding of the concept and the hotel exhibition spaces, and thirdly a theme. This year's theme is inspired by the residency's theme of care – so all the works are related to that in one way or another. It is not about who is known; we choose the artist for the work they want to produce. That's why you find works here by people with high-profile careers alongside newcomers.
GM: We are starting to produce art for the Minos Palace Hotel, which is just across the cove. It is located on a big peninsula with a kind of rocky terrain and a 360-degree view, so the aim is to have a lot of land art, which will suit it beautifully. This is an ambitious project for the near future. This year we focused on artworks for major corridors in the hotel, awarding three equal prizes instead of one for the first time. The winners are: Nomadic Murals by Maro Fasouli, who reintroduces traditional practices in a series of woven ensembles; Day by Alexandros Laios, who captures successive color hues from various stages of the day using theater filters; and Ami Yamasaki's Whispers travel and whisper to you again, a sculptural installation made entirely of paper that rustles to the touch, emitting a 'symphony of whispers' meant to weave together sensations and sounds from Japan and Crete.

SB: For the art prize, the foundation gives money for production, and this is not something that happens commonly in Greece, if at all. So aside from the award, we support a big part of the production of a unique site-specific work. The selection committee is comprised of five people who come from museums, landscape design, visual arts, and academia. There is an intense engagement and discussion with the artist. An important aspect is Gina's direct involvement in the whole process. When we met for the first time, I was amazed by her astute, very clear views regarding the quality of art. Sometimes I have the feeling that we pamper artists, but to produce something interesting they have to get out of their comfort zone and be confronted with a curator, collector, or institution with an interesting vision. Gina says, 'Trust my eye, trust the way I look at things. It is different from yours, and it may be different also from the way artists look at things, but only with this synergy can great art be produced.'
It's important for artists to find their way back to a community of people learning and living together that involves critics, curators, collectors, and other artists. Whenever great art was produced in the history of Modernism, this kind of connection existed. I have met very few collectors that understand the notion of teamwork, and Gina is one of them. It is important to embrace everybody, including the people who work at the hotel. I have seen them asking interesting questions and sitting together with us, with the curators and artists and visitors, discussing the work. As Gina has said, it's not about taking, it's about giving, about inspiring.
---
Cathryn Drake is a freelance writer and editor who has contributed to Artforum, e-flux Criticism, Kathimerini, and Wall Street Journal, among other publications.
Published on July 18, 2023.
Caption for full-bleed image, from top to bottom: 1. Gina Mamidaki. 2. Reception of Minos Beach Hotel. 3. Installation view of Come with the Wind (2019) by Theodoros Zafeiropoulos and Yorgos Rimenidis. 4. Installation view of Nomadic Murals (2023) by Maro Fasouli. 5. Installation view of Day (2023) by Alexandros Laios. All artwork photography by Loukianos Arnaoutakis.
Originally published at https://artmiamimagazine.com/modern-patrons-gina-mamidaki/