INTERCROSSING. FLASHES IN CURRENT ART
INTERCROSSING. FLASHES IN CURRENT ART AT MIA
CURATORIAL PROJECTS /MIAMI
By Milagros Bello, PhD
Intercrossing. Flashes in Current Art is at a multidisciplinary gallery in Little Haiti, 395 NW 59th Street, Miami. It runs for a whole month, from July 15th to August 15th. The exhibition delves into the theme of
intercrossing aesthetics and explores its multifaceted manifestations in contemporary art.
The purpose of the curated show is to dismantle rigidity and enforce diffraction and disruption in the current visual arts. The exhibition displaces visual formats and alters the circuit of images and their
narratives. The artworks selected permeate particular views and personal contexts to advent experiential situations in which the viewers coalesce and commingle on human interactions.
The curatorial prospect aims to de-objectify stagnant art beliefs and taboos of orthodox curatorial conceptions, generating novel associations and dialogs. The show challenges traditional boundaries and fosters dialogues about diversity and hybridity.
The exhibition sets in opposing and contraposing artistic propositions regarding their topics, techniques, and mediums. Viewers navigate into visual surprises and divergent artworks.
The selected artists come from diverse and rich cultural backgrounds: Eliana Barbosa (Brazil/USA), Magaly Barnola-Otaola (Venezuela/USA),
Ricardo Carbonell (Venezuela), Sergio Cesario (Brazil/USA), Sylvia Constantinidis (Venezuela/USA), Clark Medley (USA), Meg Cogburn (USA), Alfredo Esposito (Argentina), Laura Marmol (Venezuela/USA),
Milagros Nunez (Venezuela/USA), Alexis Rivero (Venezuela/USA), Alfredo Sandoval (Venezuela/USA).
SOME ANALYTICAL APPROACHES
Eliana Barbosa (Brazil/USA) —Proposes images created on ephemeral photography that comes from captures taken over shapes delineated by the artist on a liquid surface. They are images of intense concerns about the current sociopolitical crisis on ecology, racism, and human delving.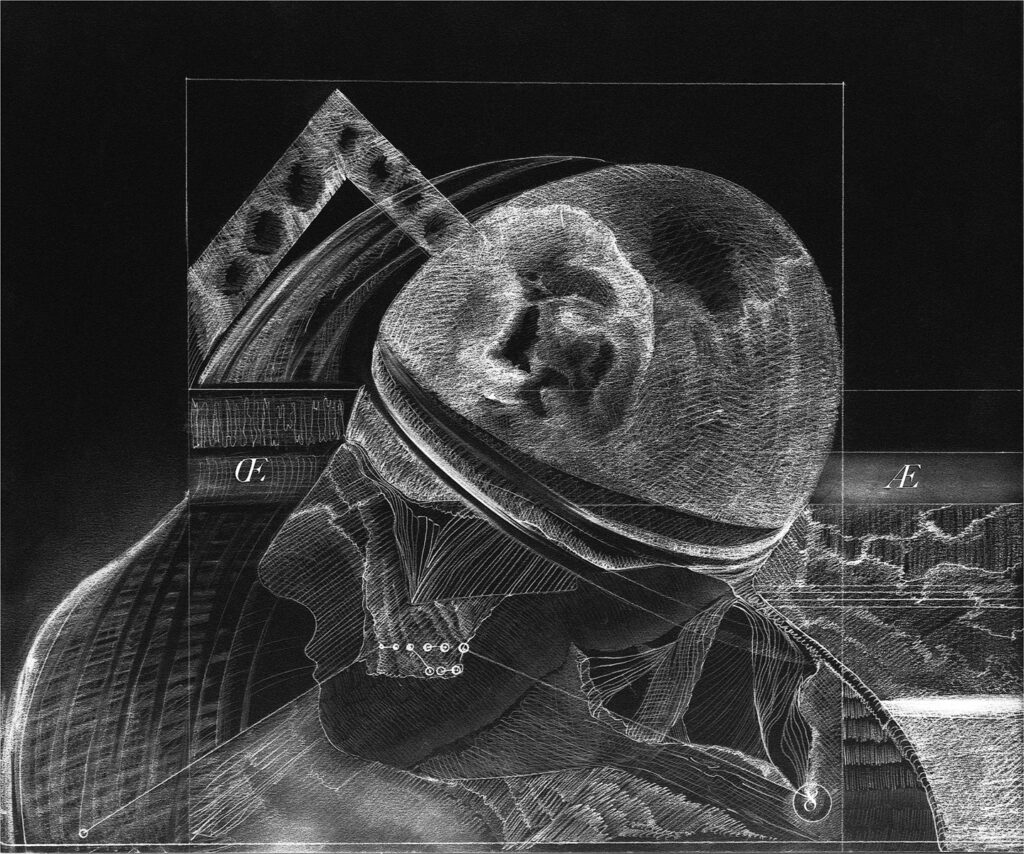 Magaly Barnola-Otaola (Venezuela/USA)—With sophisticated technology, the artist scopes superhuman archetypes as a hope of Civilization. The artist uses a technique of reversed photography mounted on light boxes, made through intervened drawings reworked and transposed to digital imagery.
Ricardo Carbonell (Venezuela)— Ricardo Carbonell approaches drawing as an autonomous production. The work "Roman Numerals" is constructed through strokes and rectilinear lines in geometric rhythms
united in numerical orders and positional systems. Using different papers, the artist, with monochromatic markers, builds in each one linear systemic sets that are then assembled into a single large format unit as a gigantic numerical board that evokes the intangible movements of the universe.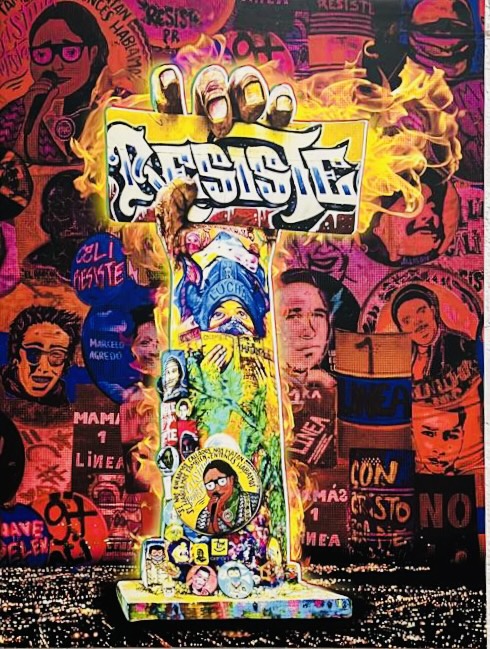 Francisco Ceron (Colombia)—Proposes intertextual images of social content intercrossed over a visual turbulent visual scene capturing a socio-political revolt in Medellin. The work "Puerto Resistencia," produced through digital images in collage, sets a broader perspective of the violent realities of Latin America.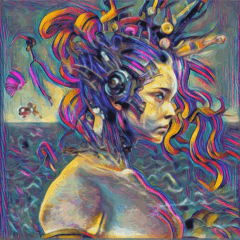 Sergio Cesario (Brazil/USA) — Proposes contemporary photography, a series of transformative images in dense combustion and transitions from reality/objectivity to fictional realms of reverie. In his Transhuman series, the artist reflects on the dissolution of Humanity and its implicit redemption.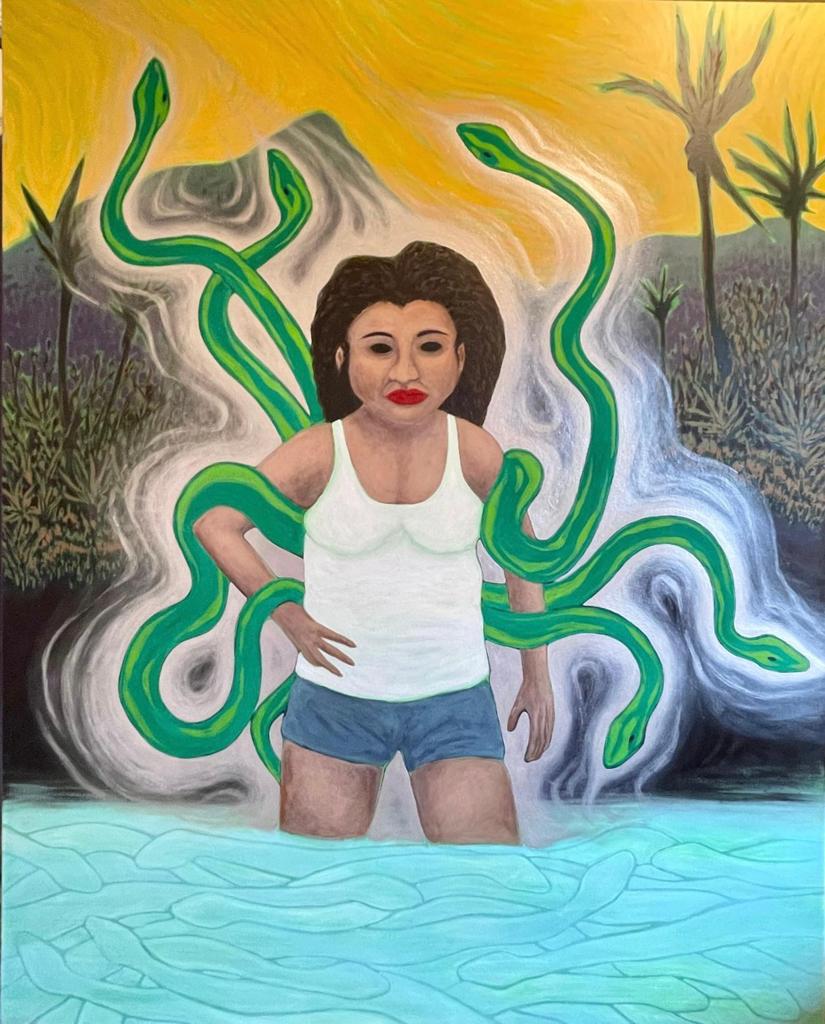 Meg Cogburn (USA) —Her paintings, departing from the power of the subconscious, delve into the realms of dreams and the metaphysical, revealing profuse imagery interconnected to civilization symbols and iconic cultural references. Inner and societal sources inform the work.
Sylvia Constantinidis (Argentina/USA) is a music composer, pianist, and visual artist. The artist superimposes and connects pictorial creation to aural and video compositions, creating meaningful passages of time and space through the fusion of sounds, music, and images.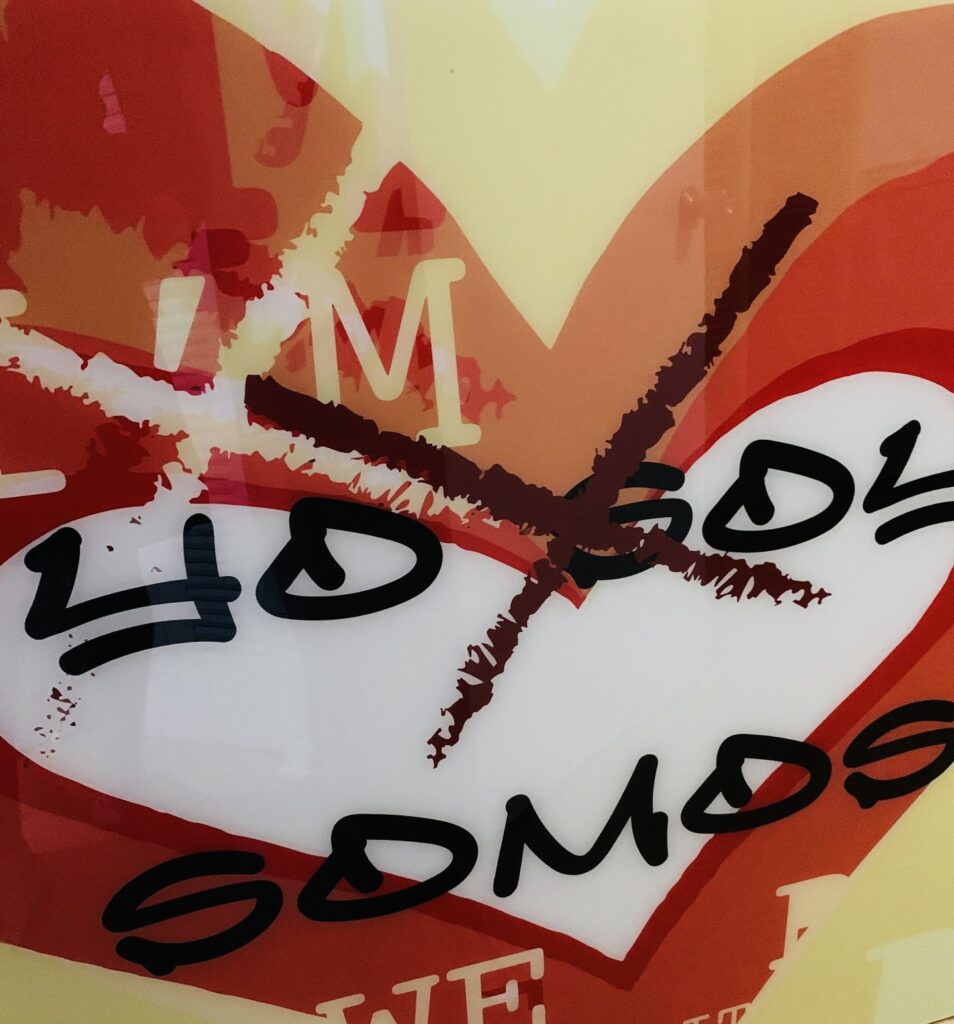 Alfredo Esposito (Argentina)— envisions a prosthetic nature, where organic entities have disappeared, and nature has transformed into artificial blossoming of plastic branches made out of pieces of hose defined in pop colors as celebrating a posthuman dystopian future. Clark Medley (USA) —Creates an imaginary fusional alphabet of cultural and social meta-referential realms as a paraphrasing of inner dialogues, captures of human experiences, sounds of the environment, and transcription of the world around. His pictorial shapes evoke a compendium of complex connections to the social graffiti lineage and calligraphies of Japan, China, Hebrew, and Islam.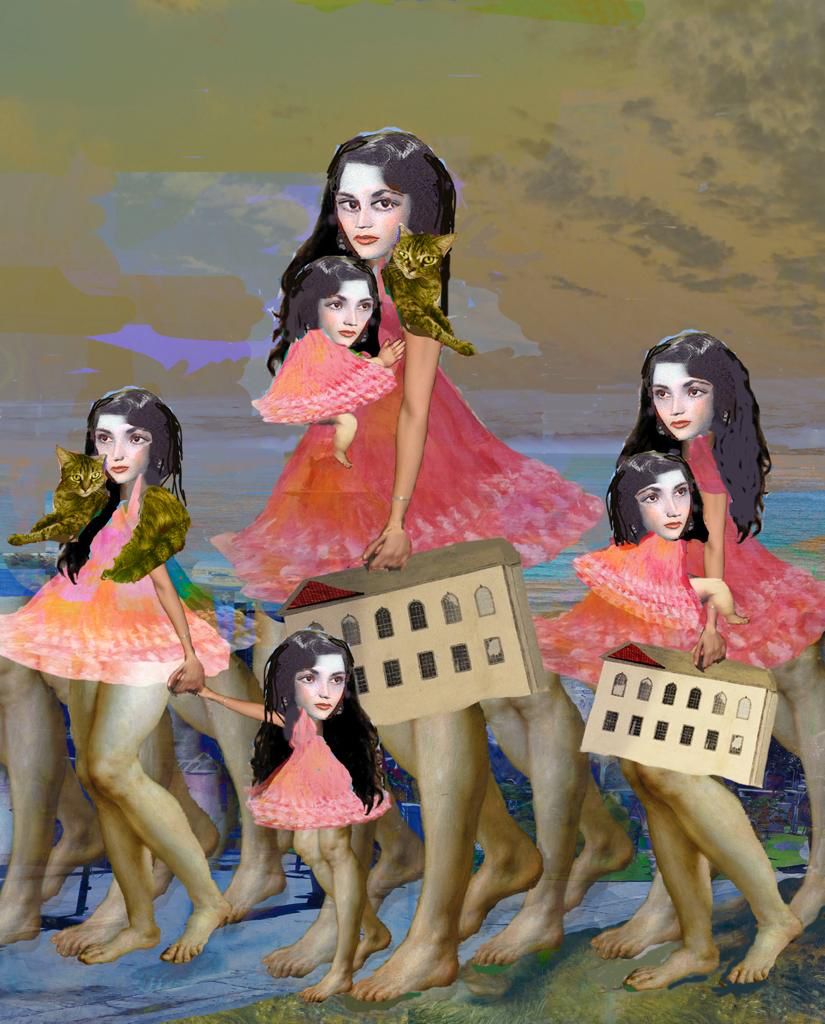 Milagros Nunez (Venezuela/USA)—Her Immigrant Series is a visual critical narrative of the turbulent process of displaced humans. Women and children are her protagonists in constant life ordeals and unsettled territories, looking for hope and salvation. Her digital intertextual images emphasize this crucial human issue's restless changes and
constant fractures.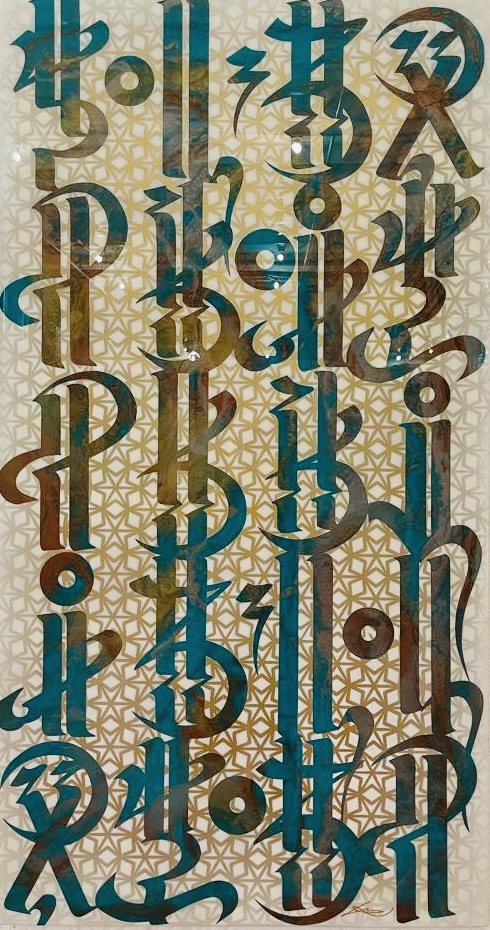 Originally published at https://artmiamimagazine.com/intercrossing-flashes-in-current-art/