III Edition of Venezuela Art Fair Delivers Impressive Turnout
Venezuela Art Fair Emerges as a Cultural Exchange Hub, Fostering Inclusivity
Venezuela Art Fair's III Edition, held from June 8th to 11th, captivated attendees not only with its diverse range of artistic disciplines such as photography, music, painting, cinema, and theater but also with its vibrant and contemporary Venezuelan artistic style.
Venezuela Art Fair (June 2023): The colorful display of art, cultural exchange, inclusivity, and the opportunity to experience a wide range of artistic expressions, including photography, music, painting, cinema, theater, and more, left over 600 attendees captivated at the III Edition of Venezuela Art Fair, held in New York from June 8th to 11th.
Art enthusiasts flocked to the One Art Space – TriBeCa located at 23 Warren Street NY 10007, from the opening day of the fair, throughout the following days of the event with its extensive and captivating Venezuelan-style agenda, until its grand closing as a multicultural event of export-quality.
Alexandra Álvarez, director of Venezuela Art Fair, and Yuri Uzcátegui, co-producer, expressed their satisfaction not only with the inclusion of digital art platforms featuring multiple Hispanic artists and Venezuelan residents from their home country but also with the active participation of artists with disabilities in both the virtual art exhibition and short film showcase.
Regarding the fulfillment of expectations for this third edition, they mentioned the growth in sponsors, a testament to the trust and support garnered by the event, which, through perseverance and dedication, has gained recognition among art connoisseurs.
Furthermore, the recognition from the public, the participation, and the awards have yielded positive results, with 93.8% of visitors rating their experience as satisfactory. Additionally, five artists residing in Venezuela won the contest to participate virtually, opening doors and opportunities to internationalize their talents.
Renier Casanova, an artist from Caracas, Venezuela, won the competition sponsored by Indie Works and showcased his printed artwork "En Espera del Final" at the gallery, ultimately selling it. This achievement not only provides him with income from abroad but also establishes the fair as a viable source of employment for Venezuelans both inside and outside the country. The artist Elizabeth Chirino, selected by sponsor Indie Works, received a special mention, as did Boris Valero, Maria Fiorella, and Hector Urdaneta, sponsored by Blick Art Materials.
Other highlights from the III Edition of Venezuela Art Fair include the presence of filmmaker Diego Márquez, who traveled from Italy to attend the fair, and artist Carlos Porras, who also made the journey from Venezuela to participate in the event.
The organizers added that the fair attracted visitors from Canada who had heard about the event and traveled specifically to witness it, reflecting the Venezuela Art Fair's strong reputation. Furthermore, the majority of attendees hailed from New York, followed by visitors from New Jersey, Florida, and various parts of the United States.
Álvarez and Uzcátegui summarized this edition of Venezuela Art Fair as a realization of new opportunities for Venezuelan-style art. They forged new alliances with crypto art platforms, ventured into the world of NFTs, and already began planning the IV Edition of Venezuela Art Fair, which will take place in a larger venue with a special area dedicated to Hispanic artists and a focus on incorporating fashion for the fourth edition.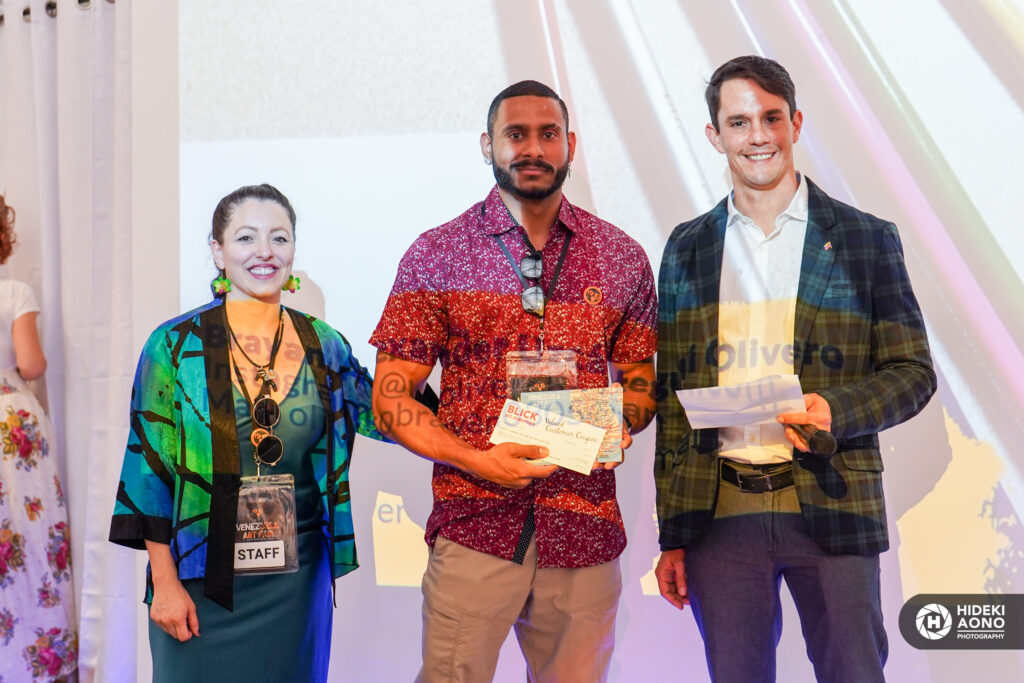 Originally published at https://artmiamimagazine.com/iii-edition-of-venezuela-art-fair/